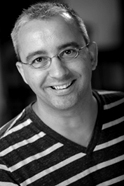 Generic demo's Hans

Hans is a professional full-time native Dutch voice. Hans started doing voiceovers way back in 1989, when he narrated graduation television pieces for students at the Dutch Academy for Journalism in Tilburg, The Netherlands. During his time in the Dutch Army he voiced over instructional videos for the military.

When he joined NOS Dutch Public TV in 1995, he was quickly asked to do the narration for news stories and documentaries.
Since 2002 Hans works as a full-time voice over artist. Hans worked for hundreds of clients. A few of the best known names he worked for are:
Rosetta Stone

Apple

Microsoft

Marriott

Philips
Hans travels all over the world, but has his office and studio in Lakeland, FL.